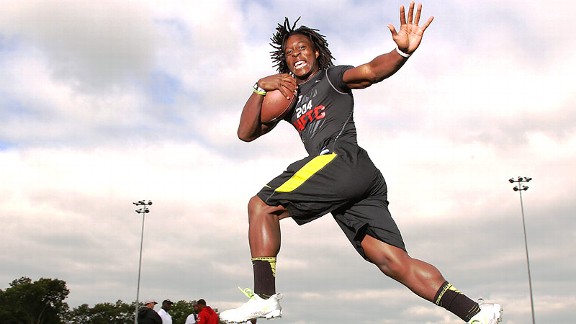 Professional athletes are regular people whose jobs just so happened to be executing their skills in front of the world. And just like all working professionals, the stress and burdens of the work place can be a little much to bear. The issue arises when amateur talent, like Altee Tenpenny, faces professional issues without being properly trained.
In case you haven't heard, Altee Tenpenny was a student athlete whose athletic career was cut short due to a string of unhealthy decisions. Unfortunately, in Tenpenny's story, his untimely death did not wait for much-needed U-turn.
Once a member of the University of Alabama football program, Tenpenny obviously had the skills and ability to play the sport, but according to a police report obtained by AL.com, Tenpenny was a young man in need of help. Saturday Down South writes:
"… Tenpenny, 20, was arrested just days before his fatal accident for discharging a firearm and being in possession of a weapon following a Nicholls State football game. Tenpenny was dismissed from the team when the news was relayed to Nicholls State football personnel.
One of the alarming details revealed in the police report indicates Tenpenny's mental instability while inebriated. Police say Tenpenny intentionally stepped into "the lane of travel and directly into the path of the truck" downtown after he had been drinking.
Tenpenny reportedly later told police he fired a shot to see if he had "one shot in the head." Later, Tenpenny changed his story and said he did not want to shoot himself, so he fired into the air. He died during a rollover [car] accident one day after being released from the local detention center."
In Tenpenny's case, there were clear warning signs that an intervention was needed. No doubt coaches, parents, teachers and friends saw the winds change in Tenpenny's life steering him down a course of unhealthy decisions. Instead of being proactive, we now have statements like the following from Alabama head coach Nick Saban.
"It's obviously a tragedy… This was a guy who was in our program and who was good friends with a lot of our players. We want to be as supportive as possible to all the people who are affected by this."
Although sad, Tenpenny is just one of many whose story ends too soon. Here at the Leeward Team, our goal is to be proactive in preventing stories like these, but it takes the assistance of people who care, like you. Become more invested in the total wellness of student athletes and support programs like Crossroads Decisions, a critical thinking program. This is our way of helping student athletes become professional athletes.