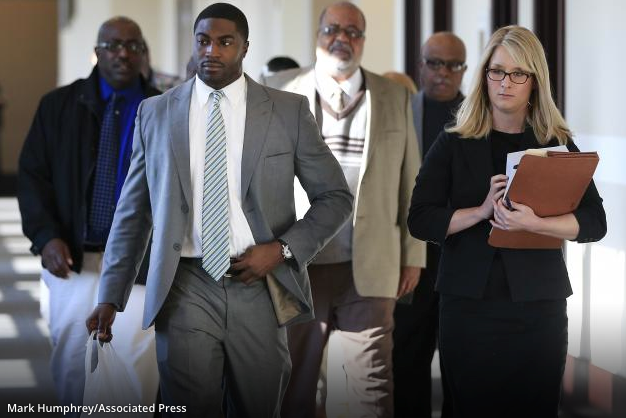 Former Vanderbilt football player Cory Batey was found guilty on one count of aggravated rape and three counts of aggravated sexual battery late Friday night.
Stacey Barchenger of the Tennessean confirmed the details of the retrial and noted Tennessee law required him to get taken into custody immediately.
Hayley Mason of WSMV provided a full breakdown of the charges and the jury's rulings:
The jury also found him guilty on four "less severe but related charges," per Barchenger.
Batey, along with fellow former Vanderbilt player Brandon Vandenburg, was found guilty of aggravated rape in January 2015 in the case. Last June, Davidson County Judge Monte Watkins declared a mistrial in the case, stating one of the jurors was "was biased and not impartial," per Steve Almasy of CNN.
The retrial verdict came after Batey, 22, and the woman both took the stand Friday before the sides delivered their closing arguments, according to the Tennessean. The jury deliberated for around two-and-a-half hours before reaching a verdict based on the incident in 2013.
The Associated Press reported the five-day trail featured "graphic images and videos" taken during the sexual assault of an unconscious student. Batey testified he didn't remember the alleged actions because he had been drinking and was drunk at the time:
Batey told jurors Friday that he had been drinking heavily with friends on campus in June 2013 and had never consumed so much alcohol in his life. He would later estimate that he had between 14 and 22 drinks.
Batey, who was 19 at the time, said he woke up the next day and saw pictures on his phone of a woman that he had never seen before.
Vandenburg is scheduled to go through a separate retrial in June. Two other former players, Jaborian "Tip" McKenzie and Brandon E. Banks, face charges related to the incident. Their cases are pending, according to the Tennessean.
The report notes the aggravated rape conviction against Batey carries a sentence of 15 to 25 years in prison. His sentencing is currently set for May 20.
Source:http://bleacherreport.com/articles/2631532-cory-batey-former-vanderbilt-football-player-found-guilty-of-rape