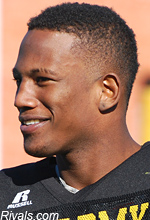 Below is an article detailing how a star high school athlete damaged his opportunity before even hitting the field. Although this story occurred in 2012, today's student athletes are falling into similar habits which could result in similar consequences. It is TLT's intent to shed light upon reoccurring situations and present preventive solutions. Check out the article by The Blaze regarding the decisions Yuri Wright made on social media and learn more about our proposed solution: Crossroads Decision.
"Early last week, the Supreme Court decided not to hear cases pertaining to student punishment regarding their free speech rights on social media sites off campus. A day after this decision, a highly recruited New Jersey high school football star with a scholarship offer from the University of Michigan was expelled from his private school over what officials considered highly offensive tweets.
ESPN.com reported that Yuri Wright, a senior from Bosco Prep High School in Ramsey, N.J., who was sought after by all major college football conferences, was expelled and his scholarship offer from U of M withdrawn over sexually explicit and racially charged tweets:
"He was expelled from the school for the things he had written on Twitter," [coach Greg] Toal told ESPNNewYork.com. "It was pretty simple really, what he wrote were some graphic sex things. This is a Catholic school, things like that cannot happen. It was totally inappropriate."
The reason, his coach said, was because of a series of tweets that began last July. Among the schools he is considering are Michigan, Rutgers, Notre Dame and Colorado. A number of outlets reported that Michigan has stopped recruiting him.
The cornerback was warned by school officials for months, according to ESPN.com, to stop using the micro-blogging site because he couldn't curb his language, but failed to comply at the time. His Twitter handle (@YuriWright3) no longer exists now.
Here are some of Wright's "cleaner" tweets:
There are more examples of Wright's even more explicit tweets here, which include the n-word and sex (via Huffington Post).
The Detroit Free Press reports recruiting analyst Mike Farrell from Rival.com, which ranked Wright in its top 100 recruits in the U.S., as saying these tweets have "ruined" Wright's chance at attending his "dream school" — U of M — but he hopes this action against Wright will send a message to other recruits to "to watch what they put out in cyberspace." Still, ESPN.com reports Toal saying he believes Wright will still do well in terms of finding a college. USA Today reports that Don Bosco Prep, where Wright attended, went 11-0, won its sixth state title in a row this season, and landed itself at No.1 on USA Today's Super 25 high school football rankings.
With regard to what students say on social media sites off campus and subsequent school punishment, the Supreme Court declined to hear three cases on Tuesday last week. According to the Examiner, school's appealed for clarification from the higher court because "school officials cannot afford to wait any longer for an answer (as to these boundaries)." The cases brought to the Supreme Court included: a high school girl who created a website making inflammatory comments against another student; a student who created a MySpace page appearing as if it were the profile of school's principal with incriminating content; and another MySpace page created by students that parodied the school's principal."
*Please note that the work presented is that of the author and that The Leeward Team does not hold ownership in part or whole to the content above.