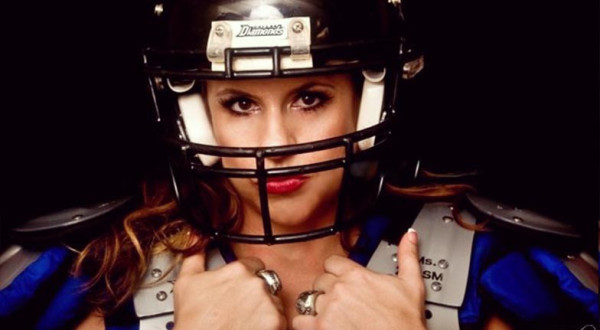 Pioneer Jen Welter pens an open letter of thanks and hope. Published by , the first female NFL coach writes about her accomplishments,  and warm welcome as the newest member of the Arizona Cardinals coaching staff. Welter even clarifies her position by stating, " To be exact, I am a training camp and preseason intern…" Either way you slice it, no other woman has advanced this far in the NFL coaching world.
One aspect rings clear throughout the post, Welter is very much grateful for this opportunity. She openly thanked the Cardinals' owner, general manager and head coach Michael Bidwill, Steve Keim, and Bruce Arians respectfully. If being congratulated by Vice President Biden and seeing tweets from Kevin Minter and Patrick Peterson welcoming and referring to Welter as "coach" wasn't enough, then maybe being mentioned by Madeleine Albright and Hillary Clinton really brought home the fact that Welter has made her mark in NFL history. And her interviews with People Magazine, ESPN and Time Magazine will only serve as official history making documentation.
In the letter, Welter was not shy in
mentioning other women who are making strides in male-dominated sports such as Becky Hammon, Ronda Rousey and Mo'ne Davis. Welter also made sure to address those who may feel that her gender hinders her abilities.
" Why do I put myself out there like this? Well, football has often been referred to as the final frontier for women in sports, so for an NFL team to have brought a woman into the coaching ranks, that speaks volumes. It's an important step for girls and women to see. Being a woman is part of who I am. It's not all of who I am, and I'm not here just because I'm a woman. I'm here as a football coach.
If my opportunity in the NFL is a chance to show other women what's possible in this world, and to show guys that there is another dimension to a lot of women—that this game that they love can be loved and respected by a woman—why wouldn't I highlight that? At the same time, my most important obligation right now is helping Coach Arians and this team. "
Well, if that's not the fat lady singing, then I don't know what is. Feel free read Welter's entire letter here and let us know your thoughts.